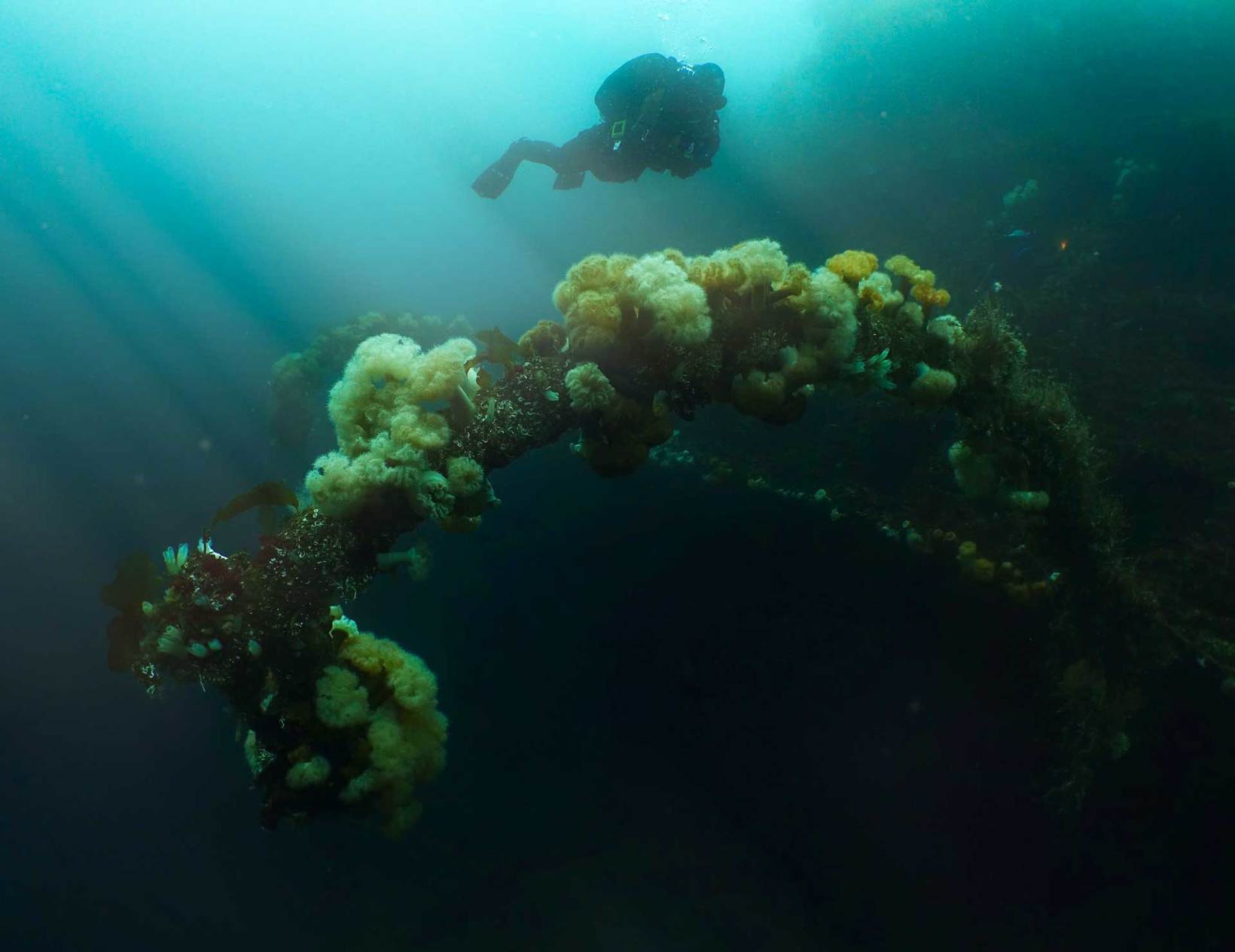 Dive into history in Dyrøy
The coast surrounding Camp Solbergfjord is a divers dream, with two wartime ship wrecks a stones throw away there is something for everyone, from the diving novice to the experienced sea bed dweller!
The first of these wrecks is the SS Elise Schulte, a German cargo steamship which sunk on the 10th January 1942. The Elise Shulte was on her way from Rotterdam to Kirkenes with a cargo of coal when she ran aground in good weather on the shoals of Finnlandnes. A salvage ship was quickly dispatched from Harstad but arrived as the Elise Shulte disappeared below the surface.
Now the 115 m long steel ship offers an interesting dive for all levels of aptitude, starting at just 5 m below the surface the use of a guideline helps locate the wreck and welcomes all levels of experience. Ranging between 5 and 35 meters the wrecks highlights include the steering wheel, which with good lighting, often the case with the midnight sun, can be the feature in stunning pictures. The rudder is also still intact along with at least one air defence cannon (rumoured to have been removed during the wartime, but still very much there to explore).
A short distance from the wreck of the SS Elise Schulte lies the SS Sirius, another wartime wreck. The Sirius has a more solemn history...
On a mission to retrieve requisitioned civilian vehicles from Tromsø to Risoyhamn a misunderstanding led the Sirius to take a dangerous turn in her journey, instead of the safer route outside Senja she found herself in the heavily patrolled inner route, passing Solbergfjord she was spotted by a German bomber on the evening on the 18th May 1940.
Soon the steel ship would sink having been hit by 2 of 7 bombs dropped on her, the wreck now lies at between 45 and 75 meters and the damage from the bombs can be seen on the bow and midships. However despite this the wreck remains in remarkably good condition and the hull is well intact, presenting an exciting variety of diving.
With something for all diving experiences we can offer accommodation and a suitable dive boat to explore the hidden treasures that Solbergfjord has to offer, contact us now to discuss further.